US President Joe Biden is going to visit India. He will be in New Delhi from September 7 to 10 to attend the G-20 summit. Biden will discuss several global issues and will also appreciate Prime Minister Narendra Modi's G20 leadership. The Eighth President of America in 64 years is visiting India. Dwight D. Eisenhower visited India for the first time in December 1959.
US President Joe Biden is coming to India to attend the G-20 Summit. They will participate in the summit held in New Delhi for four days from September 7 to September 10. At the summit, President Biden will discuss global issues such as the clean energy transition, climate change, the impact of the war in Ukraine, and boosting the capacities of multilateral development banks, including the World Bank. President Biden and G20 leaders will also discuss joint efforts to tackle global issues. Biden will be the 8th US President to visit India. Why is his visit special? Know…
President Joe Biden's visit has been reported by the White House. The special thing is that President Biden has focused on visiting India instead of the ASEAN Summit to be held in Indonesia. Biden will not attend the ASEAN Summit. Vice President Kamala Harris will attend there. The White House said that President Biden will also appreciate Prime Minister Modi's leadership for the G-20 and will also reiterate US commitments to the G-20 as a major forum for economic cooperation. This includes hosting it in 2026.
G20 partners will discuss joint efforts to tackle global issues, including the clean energy transition and combating climate change.
Biden's talks with other leaders from the summit will focus on climate change, Russia's war in Ukraine and other global challenges. Will talk about reducing Russia's economic and social impacts.
Discuss global issues such as capacity building of multilateral development banks including the World Bank.
This includes capacity building of multilateral development banks. The World Bank will discuss joint efforts to better fight poverty and tackle global challenges.
While in New Delhi, President Biden will also commend Prime Minister Modi's leadership of the G-20 and reaffirm the US commitment to the G-20 as the premier forum for economic cooperation, including hosting it in 2026.
Earlier, during PM Modi's state visit to America in June 2023, Biden had said that he was looking forward to the G20 summit in New Delhi in September. Biden had said that the relationship between India and America is the most important relationship of the 21st century. The decisions the two countries take today will determine the future for generations to come.
Know why the visit of Biden is special…
Joe Biden is visiting India for the first time after becoming the President of America. He will also meet and interact with Prime Minister Narendra Modi in New Delhi.
Both countries have started moving forward on the path of partnership through bilateral talks. In June, PM Modi made many important agreements during his state visit to America.
The US government is also giving a lot of importance to the visit to India. During this time, there may be some big agreements between Modi and Biden related to defense deals, trade, and cyber security. The important thing is that the US is going to transfer the technology of its dangerous weapons from jet engines to India.
There is a war going on between Russia and Ukraine. European countries have opened a front against Russia and have imposed various sanctions to put a brake on the economy. At the same time, Russia is also badly involved in the Ukraine war. It is not able to meet India's defense needs on time. On the other hand, China's threat to not only India, but the world is constantly increasing. America is trying to break Russia economically. At the same time, India is trying to keep its relationship with Russia in balance.
China has emerged as a big challenge for America in a few years. Regarding China, it has been believed that only China can compete with America in the future. Whether it is a strong economy or a strong army. In both cases, China is now competing with America. Experts believe that deteriorating relations with China is bringing America closer to India. Because America can challenge China by supporting India. China also believes the same.
America has made India its strategic partner to curb China's growing aggressiveness. Now he is advancing his strength and technique. America is aware of India's strength and knows that it cannot deal with China without taking India with it. Therefore, more focus is being kept on those deals between the two countries, which will not only increase India's strategic strength but there are also great expectations of increasing employment in the country.
Due to the corona epidemic and other reasons, the entire world is in an economic recession. While India is towards revival. Along with this, India has also emerged as a big market for the world. The population of India is more than 140 crores. This is a big market in the eyes of the world. Everyone wants to sell their goods in India. The middle class is growing in India. His spending power is also increasing. Other developed countries, including the US, are trying to take maximum advantage of the Indian market and strengthen relations through investment.
The next summit of G20 is proposed to be held in America in 2026. In this case, Prime Minister Modi will hand over the presidency of the G-20 to President Biden.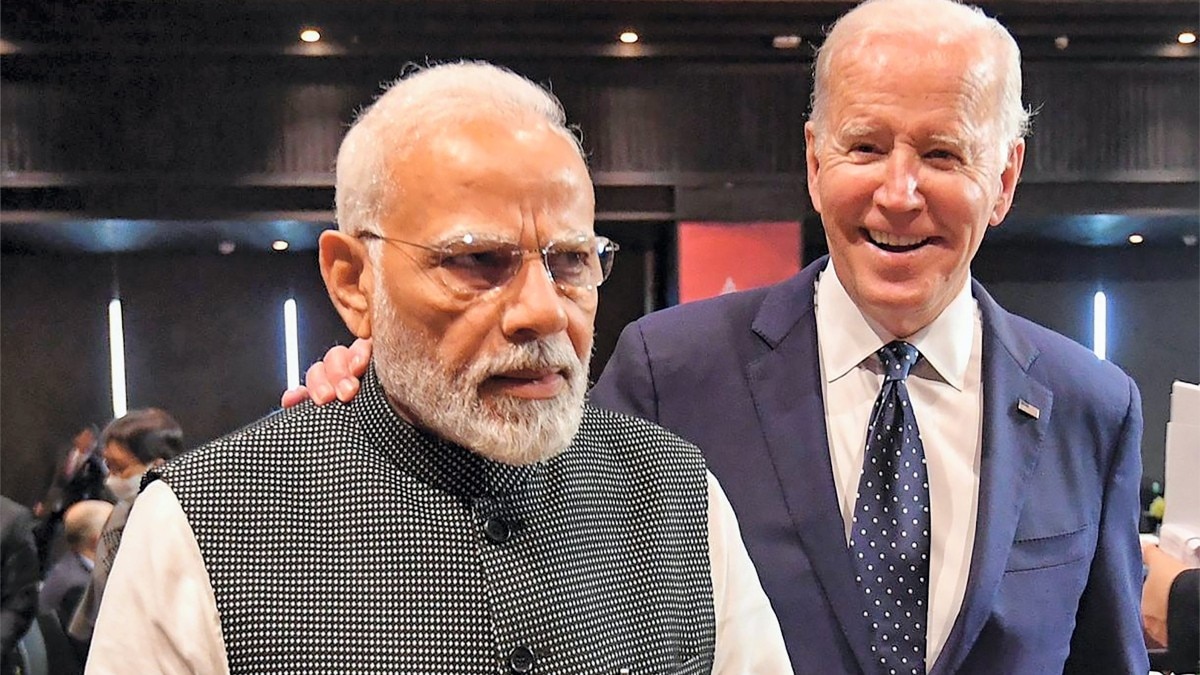 Also Check: Deal, diplomacy, and friendship… What does PM Modi's US visit mean for China and Russia?
The interest of both countries…
The US to be India's largest trading partner in 2022-23. More than 10 lakh crores of rupees were traded between the two countries. Doing business with America is not only good for America, but also for India.
India's trade balance remains positive in doing business with America. That is because India sells more to America and buys less from there. Whereas, this is not the case with China. Because India buys more from China and sells less.
Trying to distance India from Russia?
Ever since independence, India has been closer to Russia than America. America does not want to allow this closeness to grow any further. For this America is now adopting the Russian formula. In fact, India is the largest buyer of weapons in the world. A report by the Swedish organization Stockholm International Peace Research Institute (CIPRI) states that between 2018 and 2022, India purchased the most arms.
According to Sipri, India is getting most of its weapons from Russia. Russia accounted for 45% of India's arms imports between 2018 and 2022. Whereas, France came second with a 29% share. Number three is America, which has a share of 11%.
America wants to replace Russia in terms of weapons. But till now the problem was that America does not transfer technology like Russia. Not only this, American weapons are much more expensive than Russian ones.
Which American President has visited India so far?
Dwight DeWitt Eisenhower: After independence, relations between India and America began in December 1959. Then US President D. Eisenhower visited India for the first time. He stayed in India for four days. Then Jawaharlal Nehru was the Prime Minister of India. During this time, Eisenhower addressed the joint session from Parliament House. A banquet was held in Eisenhower's honor on December 13 at the Ramlila Maidan. He also visited the Taj Mahal in Agra. Eisenhower, the 34th President of America, was in power from 1953 to 1961. Before entering politics, Eisenhower was a commander during World War II.
Richard Milhus Nixon: After 10 years i.e. in 1969, US President Richard Nixon came to India. He stayed in Delhi only for 22 hours, after that he went to Lahore. At that time, Indira Gandhi was the Prime Minister of India and was going through political upheaval. Nixon was the 37th President of the United States. He resigned just before he was impeached. Nixon was the President of the United States from 1969 to 1974. About Nixon, some Indians believed that Nixon had helped Pakistan in the 1971 war. When Nixon arrived in India in July 1969, he was received by Indira Gandhi at the airport.
Jimmy Carter: In 1978, President Jimmy Carter visited India. He was the 39th President of the United States. He came to India 9 years after Nixon. When Carter came to India, the country was under the government of non-Congressman Morarji Desai. Janata Party had a historic victory and Indira Gandhi faced defeat. Carter stayed in India for 3 days.
William Jefferson Clinton: After 22 years i.e. in March 2000, the American president known as Bill Clinton visited India. Clinton is the longest-serving president in India. Clinton stayed in India for about five days. At the time of Clinton's visit, the President of India was KR Narayanan and the Prime Minister was Atal Bihari Vajpayee. Clinton addressed Parliament and visited other cities including Mumbai, Jaipur, Agra, and Hyderabad.
George W Bush: After 6 years i.e. in 2006, George W Bush came to India. He spent about 60 hours in India. Manmohan Singh's coalition government was then in the country. A civil nuclear agreement was signed between India and the US. Bush was the fifth president to visit India. He came to India at a time when America was waging a war in Afghanistan against the 9/11 terrorist attack.
Barack Obama: After 4 years i.e. in 2010, Barack Obama came to India with his wife Michelle Obama. After that he also came to India in 2015. Barack Obama is the sixth US President to visit India. He addressed Parliament House. Obama also paid tribute to those killed in the 26/11 terror attacks. After 5 years in 2015, on the invitation of Modi, President Obama came to India as the chief guest on the occasion of Republic Day.
Donald Trump: 5 years later, in 2020, American President Donald Trump also came to India. He had reached India on a two-day visit. Trump came with his wife Melania, daughter Ivanka and son-in-law George Kushner. During this time he had reached Delhi, Agra, and Ahmedabad. Trump took part in a 22 km long road show in Ahmedabad. Tributes to Mahatma Gandhi at the Sabarmati Ashram and addressed a massive 'Namaste Trump' gathering with Prime Minister Narendra Modi at the newly constructed Motera Cricket Stadium. Now after three years in September 2023, Joe Biden is visiting India as the eighth President.
Know about G-20…
India has taken over the chairmanship of G20 from Indonesia on December 1, 2022. The G20 Global Leaders Summit is scheduled to be held in New Delhi on September 9 and 10. The summit is expected to be one of the largest gatherings of global leaders in India.
All schools and offices of the Delhi Government and Municipal Corporation in the national capital will remain closed on September 8, 9, and 10 due to the summit.
The G20 group is an intergovernmental forum of the world's major developed and developing economies. Member countries represent about 85 percent of the global gross domestic product, more than 75 percent of global trade, and nearly two-thirds of the world's population.
The G-20 group includes Argentina, Australia, Brazil, Canada, China, France, Germany, India, Indonesia, Italy, Japan, the Republic of Korea, Mexico, Russia, Saudi Arabia, South Africa, Turkey, the UK, the US, and the European Union. are
Prime Minister Narendra Modi has visited the US a total of 8 times so far. Recently, he visited America from the 21st to the 24th of June. This was his first political visit. America had given this honor to the then Prime Minister Manmohan Singh in 2009 before Modi.